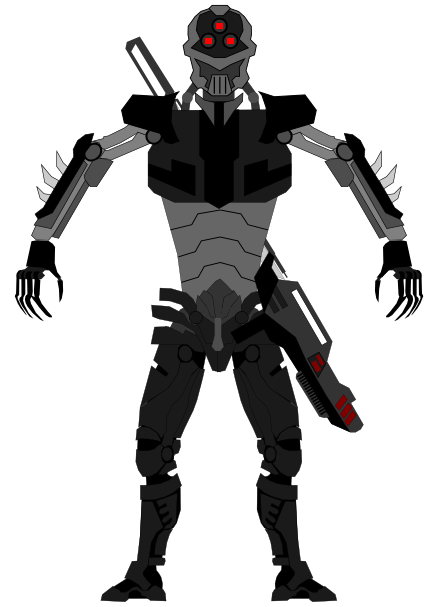 There was a being. A consciousness lay in a dormant state. The mind and spirit inactive, save for a small flicker. That flicker was focus and determination. That flicker was the Force. A mere flicker amidst the entire rest of the spirit in dormancy, but it was enough to keep the mind ready and prepared. Ready for any situation it may find itself in when it awakes. There was a presence approaching, its darkness unmistakable and thus registered by the mind, if only at a near unconscious level. But that recognition was enough to send the mind bristling back into activity as it prepared to be thrust into consciousness. And as soon as a button on the slab of carbonite, the mind awoke, and it was ready.
The first thing Ahsoka Tano saw was darkness, and the first thing she felt was heat as the carbonite began to vaporize and fall away around her. Then she remembered where she was. Ever since leaving the Jedi Order she had vanished into the criminal underworld of Coruscant, facing crime and injustice, taking a stand where the Jedi had long neglected to take a stand, one of the mistakes of the Jedi Council she thought she could trust. While she was no longer a Jedi, she was still very much a servant of the light side of the Force, and held true to many but not all of the beliefs she had held as a Jedi. So that's what she chose to become to find herself again; a guardian and a protector, fighting injustice on the fronts the Jedi could not.
Though she had no longer been a Jedi when the Great Jedi Purge began, she could not help but feel the agony of thousands of Jedi being slaughtered across the Galaxy. When the Jedi fell, when the Empire took over, things had grown worse in the underworld. Things had grown much much worse. When a couple had placed a considerable bounty for the rescue of their kidnapped daughter, Ahsoka had teamed up with Asajj Ventress to save her. But when they arrived at there destination, there was no daughter. There had never been a daughter. What they found was an ambush. Brought back to Ziro the Hutt's palace in chains, Ahsoka was confronted with Vintagutar the Hutt, the lovechild of Ziro and his brother Ebor. As it turns out, Vintagutar held a grudge against Ahsoka for the part she played in preventing his father/mother (Ahsoka truthfully didn't want to know the details of the relationship. Hutts were disgusting enough without incestuous reproduction.) from attaining revenge against Senator Amidala for his imprisonment. And despite the subsequent incarceration in carbonite she and Ventress faced, Ahsoka never regretted her actions one bit. Now here she was, freed from the carbonite.
She fell forward before extending a leg to catch herself in a kneeling position. Her eyes fluttered open, but all she saw was a light blur.
Carbon sickness!
She realized. She was virtually blind, her body ached, and her muscles were numb. A flood of information surged through her montraals, almost overwhelming her mind with its sheer magnitude. It would seem hibernation sickness had made her montraals hypersensitive. The entire outline of the room around her roared through her mind in a chaotic jumble, but she could make out several humanoid forms right in front of her, training blasters on her seemingly vulnerable figure. With the Force however, she sensed nothing but impending danger.
Droids!
Desperately, Ahsoka threw her aching arms in front of her body and unleashed a blast of telekinetic power that swept every droid off of its feet.
As the droids recovered and got back up, she did as well. She called upon the Force to reduce the pain of her aching muscles and rejuvenate her weary body as she had done so often in the Clone Wars. Though she did not yet have the luxury of time to restore her vision, she did call upon the force to focus her mind and senses. If she could not see, she would use her now hypersensitive montraals to her advantage.
With a disadvantage turned into an advantage and the power of the Force, Ahsoka could perceive her surroundings in perfect clarity, mapped out in her mind like a holomap. Seven droids stood before her, six of them wielding blaster rifles, raising them for combat. The lead droid seemed to have at least a slightly different shape than the rest, and for some reason hadn't drawn any weapons. Ashoka reached out, grabbed one of the droids with the Force and yanked it towards her. As soon as it reached her, her right leg shot out, striking the droid square in the chest and sending it flying towards its leader. Ahsoka gave the droid one quick shove with the Force for good measure before flipping out of the way of the first volley of blasterfire was fired upon her. Only five of the droids had fired, with the lead droid sliding back across the floor slightly, its companion caught in its arms.
Wasting no time, Ahsoka dashed behind one droid, using its body from cover as she wrapped her arms around its neck and wrenched with all of her might, calling upon the force to strengthen her body. The head tore off with a loud pop and a shower of sparks. She then threw its headless body at two of the other droids, before charging at one of the two droids that was still firing at her. Bobbing and weaving, Ahsoka came at the droid at an angle that made it impossible for the other droid to fire at her without shooting its companion. Ahsoka kicked the droid's weapon arm just as it was pulling the trigger, causing the shot to miss her by a foot. Before the droid could correct its aim, Ahsoka fell upon it in a blur of motion. Her right leg lashed out to strike the back of its knee joint, causing it to kneel forwards. She spun around and came in close, her left elbow denting its chest as her right wrapped around its hand. With a quick yank and pivot, she had the trigger pointed at the droid's chest. She fired a shot to its chest and then another to its head, before crouching down and pulling its now "lifeless" body atop herself for cover as the droid behind it began to fire. Two shots struck but did not fully pierce the droids chassis before Ahsoka reached around and fired a blasterbolt into the firing droid's leg. As the droid staggered, Ahsoka discarded the droid corpse, tossed its blaster to the side and jumped into the air. As she flew at the droid's head, she lashed out both legs in two lightning fast kicks, one after the other. Her left leg knocked the droid's head back, and her right almost completely snapped it off.
As Ahsoka landed on her feet, she perceived the lead droid chucking the droid in its arms at her, and she dropped into a crouch, letting the droid fly straight over her head and smash its own head into the wall. She spun around just as the lead droid grabbed her shoulder with one of its hands. She swept her arm into its arm, forcing it to release its grip on her before ducking over the swipe the droid took at her with its other arm. Faster than she expected from a droid, it lashed its leg out and caught her in the chest with the tip of its metal foot. The kick, stronger than she'd expected even from a droid, sending her sprawling across the floor. Before the lead droid could draw a weapon, Ahsoka threw it through the open doorway with the Force, and used a decaptiated droid head as a projectile, striking and disabling the control panel as the door slid shut.
Still on the ground, Ahsoka perceived two cylinders a few feet to her right.
My lightsabers!
she realized with a sigh of relief. As the two remaining droids opened fire, Ahsoka rolled to the side, dodging the first few blasterbolts, and called her weapons to her hand. Both blades blazed to life in her hands as she rose to her feet. She then used her lightsabers to deflect their blasterfire with almost casual disdain as she approached them. With a flick of her shoto, Ahsoka sent a blasterbolt straight through the head of one of the droids before twirling through the air and carving the other one to pieces with a blindingly quick flurry of both blades. Just then she heard a loud thud as the lead droid, the only remaining droid, banged its fist against the large durasteel door.
Now with a brief reprieve, Ahsoka kneeled on the ground, bowed her head, and drew upon the Force to heal her eyes and restore her vision. A calm tranquility spread through her mind as a gentle warmth washed over her body. A second thud sounded as the droid's hand struck the durasteel door yet again. Ahsoka ignored it as she continued to heal herself. Then a third thud sounded. Then a fourth. Then a fifth. Finally, as the droid's arm tore through the door, Ahsoka rose to her feet and opened her eyes. Once again she was able to see, and she was no longer hindered in any way by the carbon sickness. Her strength was fully restored, and her resolve had never been stronger.
She watched as the droid stuck its second hand through the small gap in the door. Then, the droid pulled its arms in opposite directions, tearing the once small gap into a large gaping hole. Ahsoka watched as the droid dove through the hole head first, somersaulted once across the floor then came to its feet in one smooth motion. What stood before Ahsoka, amidst the broken bodies of what Ahsoka not realized to be BX Series Commando Droids, was a tall droid covered in black and gray plating, bearing various parts resembling those of commando droids, super tactical droids, and magna guards. On its back was a vibrosword, and on its hip was a blaster rifle. Protruding from each forearm were three small vibroblades. Its three red optical sensors stared at Ahsoka as it drew its blaster. Ahsoka raised her lightsaber and shoto to deflect the shots, but was caught off guard by the firing rate of the apparently automatic repeating blaster rifle. A constant stream of blasterfire sprung forth from the droid's blaster, and just blocking was not enough to survive the onslaught.
Ahsoka leaped and twirled and spun through the air with the acrobatics of Ataru, evading most of the blasterbolts as she deflected the rest with the moves of Shien. She deflected about half a dozen bolts back into its chassis, but none pierced it, and the droid didn't even stagger back. She leapt from one side of the room to the other trying to escape the droid's aim, but it was far to precise and determined to let up. Channeling the Force through her body Ahsoka leapt at the droid soaring over its head as she twirled and continued to fire upon her, not letting up for a second. As she came down on the other side of the droid and it spun around to maintain its line of fire, Ahsoka carefully aimed one deflected shot into the droids blaster, knocking it out of its hands.
Ahsoka seized the advantage, charging at the droid as it retreated for more space to draw its vibroblade. When Ahsoka fell upon it, the droid already had its vibroblade out to deflect the first of Ahsoka's strikes. After the first exchange of blows, Ahsoka knew this droid was exceptionally fast, undeniably strong, and more dangerous than any droid she had ever had to face, but that would not save it. She drove it back several more meters before catching it's vibroblade with her lightsaber and slashing it across the chest with her shoto. She gasped in surprise however as the blade merely bounced off the droid's chassis, only leaving the slightest scorch mark across it. Seizing advantage of her surprise, the droid took one hand off of the vibrosword and lashed out with its forearm, driving three vibroblades at her face. Ahsoka quickly altered the angle of her lightsaber to hold back both the vibrosword and vibroblades as she dropped to a crouch, one of the vibroblades stopping only a centimeter away from her eyeball. Ahsoka desperately swung her shoto blade upward with all of her might, slashing the droid in the fork of its legs and staggering it slightly. She then threw it off balance even more by driving one foot into its right leg, then launching herself off of it away from the droid as she threw her body back and slid across the floor, rolling away as the droid hacked at her with its vibroblade.
Ahsoka rolled back onto her feet and charged at it again. Despite all the commando droids, magna-guards, and droidekas Ahsoka had faced in the Clone Wars, Ahsoka knew that this was by far the deadliest droid she had ever encountered. But even with its tough armor and highly advanced programming, she knew it was no match for her, not now that she was familiar with its tricks and it had nothing left to catch her off guard with. She charged at it, wielding a deadly combination of Ataru, Niman, and Shien, driving it back with a plethora of varying moves and maneuvers. With no more need to defend itself, the droid focused only on offense, letting its chassis take the brunt of Ahsoka's assault. Even so, the droid was pushed inexorably backwards, its strikes turned aside or evaded by Ahsoka, its chest and body struck repeatedly by flurries of aggressive bladework and the occasional kick. The droid was fast, but Ahsoka was a blur of motion. After twenty seconds, Ahsoka utilized both of her blades and a kick in a complex maneuver that wrenched the droid's vibrosword from its hand.
Using the Force, Ahsoka lifted the vibrosword into the air, and hurled it at the droid's faceplate like a javelin. Before the droid could react, the tip of its own vibrosword tore a large gash through one of its photoreceptors. Ahsoka watched the droid desperately dislodge the sword from its face, but before it could do anything else, Ahsoka plunged both of her blades through the gaping hole and pulled them both to either side, tearing the droid's head completely open and letting its now useless body topple to the ground as she stood victoriously over it.
Then… a dark presence washed over the room. A chill rippled across Ahsoka's spirit. The light pouring in from the next room through the gaping hole in the durasteel door was suddenly blocked out by a figure in a black cloak and black armor stepping into the room. This being bore a striking resemblance to Emperor Palpatine's royal guards, except with black armor instead of red, and a red visor that glowed menacingly. Most notably however, Ahsoka could feel the power of the Force within him. Something was wrong though. She had sensed dark siders before, but something about his life energy felt distorted and unnatural.
They stood there in eerie silence for five seconds until this "shadow guard" held out a long pole. A second later there was a snap-hiss as a short red blade ignited like a flame on the pole's tip. For a six tension filled seconds, Ahsoka eyed this guard, letting the calm tranquility of the light side flow through her.
The Force is my ally
, she thought to herself.
"I'm not afraid of you!" Ahsoka said with a calm focus as she angled both blades forward, ready to meet the assault of her enemy.
Time stretched to a crawl as the guardsmen stood perfectly still not making a sound or motion. Then, finally, when the guardsmen spoke, it sounded unnatural and demonic, more like a rasp or hiss than a human voice. "You should be…"
Last edited by Emperordmb on Thu Oct 08, 2015 9:56 pm; edited 1 time in total
_________________
OMGGGG THAT WAS AWESOME

WRITE PART TWO ASAP DMB SERIOUSLY
The Crazy Droogie




Posts

: 250


Join date

: 2014-09-02


Age

: 19


Location

: Arkham Asylum



Ahsoka leapt at the guardsmen and unleashed an aggressive flurry of horizontal slashes upon him from both sides, seeking to overwhelm him with moves honed through thousands of hours of repetition. The dark warrior fell into an almost casual retreat, holding his weapon vertically and bringing it side to side in tight movements, catching the former Jedi's strikes upon the lightsaber resistant shaft of his weapon. Ahsoka changed up her offensive, leaping and twirling as she rained blows upon her enemy from randomized angles in wild sequences alternating between the simplicity of Shii-Cho and elaborate nature of Ataru, but the guard also adapted, whirling his pike around his body in a defensive wall.
Seeking to better understand the nature of her enemy, Ahsoka pushed outwards with her mind, driving her senses through the dark creature like a laser. Her mind immediately recoiled, disturbed by the void she felt within him. Normally the minds and spirits of beings, whether light or dark, were vibrant, filled to the brim with feeling, purpose, and infinite complexity, but what she felt in this guard was a shadow of what she should have felt. It was as if someone had taken a mind and twisted it, stripping away almost every part of who they were until all that remained were the darkest of impulses, left to fester in the empty void that was once a sentient being. At the center of all of those impulses was a singular drive to serve someone or something, most likely Palpatine, a purpose that consumed this creature's entire being. This creature was a slave twisted beyond the point of saving, nothing left within him to redeem, no choice, no good, nothing but a shadow.
Ahsoka whirled around, driving the guard's blade to the side with her shoto while simultaneously striking at his now unprotected face with her lightsaber, but before her blade found its mark the bottom of the guard's shaft struck her hard in the bottom of her right leg, sending her strike askew and threatening to floor her. Ahsoka however had spent thousands of hours training in the acrobatic disciplines of Ataru, so rather than collapse she rolled with the momentum, flipping diagonally through the air and landing on her feet for a fraction of a second before a powerful force push slammed her into the adjacent wall several meters away, leaving her collapsed upon the floor alongside chunks of stone broken off of the wall by the impact of her body. Bolts of pain shot all throughout her back as she spit a glob of blood onto the ground before her.
The guard slowly twirled his weapon in front of him as he took slow purposeful steps towards him, and Ahsoka shuddered as she felt his empty gaze upon her prone form. "The void closes upon you," the voice rasped. "There is no light in the void, only death." The guard shot towards her, driving the blade of his pike towards her body to end her, but at the last possible moment Ahsoka sent as great a surge of Force energy through her body as she possibly could and shot up off of the ground, deflecting the guard's strike to the side with both of her own weapons, flipping through the air over him and driving her feet into his back as her legs came down before flipping once more and landing on her feet. She whirled around just as the guardsmen regained his balance and drove a blast of Force energy straight into his chest, driving him back and onto his knees. Following up on her advantage, Ahsoka telekinetically seized hold of every shattered and broken droid carcass strewn across the ground and hurled them at the guardsmen from all angles, but the dark warrior blasted the droids to shrapnel with a blast of violet lightning.
"The light is not so easily stifled," Ahsoka cried out defiantly as she dropped back into a fighting crouch. The guard hissed in anger and charged at her, lashing out with a wild but focused aggressive sequence blending quick and precise stabs with long sweeping movements and leveraged strikes. Ahsoka gave ground, however defensive moves were hardly a strong point in her fighting style so she was forced to adopt a defensive strategy markedly different from the immovable wall of Obi-Wan Kenobi's defensive velocities. The defensive moves Ahsoka was trained in were largely derived from Niman, so Ahsoka incorporated moves from the moderation form into her strategy, exploiting the form's versatility to counter a variety of different strikes from different angles. Simultaneously, Ahsoka wove the moves of Ataru into her sequences, using its agility and acrobatics to evade numerous strikes and create space for her to work in her own offensive sequences to keep the guard at a respectable enough distance to keep him from overloading her defenses. As she gave ground however, she also made use of Ataru's agile kinetic focus to maneuver herself to the side, working her retreat into something of a circle designed to keep her from ever being forced into a wall or corner.
After about half a minute, the guard picked up on her strategy and took a step back, angling his weapon forwards and falling into a series of vicious and lightning quick stabs, lashing out with his polearm with deadly speed and precision, making full use of the breathing room Ahsoka had forced between them with her offensive flurries. Ahsoka fell into a quicker retreat than the one she was in before, again trying to circle around, but she was blocked at every turn by the guard's polearm, which seemed to be rather uniquely qualified to counter her defensive tactics. Try as she might to reassert control, the guard was slowly herding her towards a wall.
As Ahsoka felt her heel brush up against the wall, she decided to switch up her strategy, more out of necessity than preference. Now increasingly desperate as the guard jabbed his blade towards her again and again, burning furrows through the duracrete wall behind her, Ahsoka maintained the evasive agile bodily movements of Ataru, but transformed her bladework into something else entirely. Calling upon the countermoves of Shien and the trace elements of Soresu within Niman's movesets, Ahsoka whipped her blades around her body in tight defensive movements, a crude imitation of Kenobi's Soresu defense that in no way did the venerable Jedi Master justice, but was still serviceable enough against the offensive of the dark warrior before her.
After a few seconds, Ahsoka caught the shaft of the guard's weapon in a crossblock and drove it to her left, pressed the sole of her left foot against the wall, and pushed off while simultaneously lashing out with her right leg, keeping the guard's lightsaber pike pinned to the side with both of her blades as she shot forward, driving a powerful kick into the guard's left flank and staggering him backwards. The guard desperately whirled his weapon around just in time to parry a vicious sequence of aggressive moves levied at the left side of his body, however in his desperation he overextended, and Ahsoka followed up with a swift roundhouse kick to the right half of his abdomen, throwing him off balance further.
Now that the momentum of the fight was in Ahsoka's favor, she charged forward, blending the acrobatics and offensive flurries of Ataru with the raw wild bladework of Shii-Cho, the versatility of Niman, and the counter-responsive moves of Shien. The guard fell back, desperately whirling his pike around his body, however Ahsoka adapted, calling upon the lengthy quarterstaff training her master had put her through to work around his defenses. Ahsoka drove him back several meters with a particularly aggressive sequence before flipping halfway to the side, pressing an arm to the ground and lashing out with her right leg, driving the toe of her boot into the side of the guard's helmeted head, sending him stumbling backwards. She followed up by whirling around and stomp kicking him in the stomach with her left leg before pushing his weapon to the side with her shoto and driving the tip of her lightsaber through the area between the center of his chest and his shoulder.
The guardsmen hissed in pain as a dark mist seethed from the wound, but before Ahsoka could drive her blade deeper, her body was seized in uncontrollable spasms as violet bolts of searing energy shot through her whole body, pouring into her right arm from the left hand of the dark warrior, and forcibly disarming her of her lightsaber. Before she could recover, the guard drove the shaft of his pike hard into her back, sending her sprawling forwards onto the ground before her. She barely had time to roll out of the way as the guardsmen sliced through the duracrete just beneath where her head had been an instant before. Ahsoka rolled back onto her feet just as the pommel of the guard's pike swept her short yellow blade to the side an instant before his red blade lashed out at Ahsoka's head from her left. Ahsoka ducked her head to the right and threw herself into a flip, twirling her body through the air just beyond the range of the guard's blade and landing in a crouch.
Just as the guard charged at her once more, Ahsoka called her lightsaber back towards her hand while simultaneously activating it, forcing the guard to contort his body to the side to avoid being skewered. When Ahsoka's fingers closed around the familiar cold metal of her lightsaber, the guard's body was still contorted, so Ahsoka lashed out and burned a deep furrow through the side of the guard's abdomen, causing a shadowy cloud to burst forth from his side. The guard swiftly retaliated, stepping back and whirling the blade of his weapon up towards Ahsoka's, leveraging the blow so that it forced both of her blades up to the side before he drove the pommel of his staff into her stomach, slamming her violently to the ground.
The guard leapt forward, bringing his blade crashing down towards Ahsoka from above, but the Togrutan lashed out, catching his strike in a crossblock. After the briefest of instants, Ahsoka pushed his weapon up while simultaneously rolling up into a crouch. She then shot forward, bringing her lightsaber blade under the guard's pike and piercing its length over halfway through the guard's stomach. As the dark warrior shrieked in pain and a great dark cloud billowed forth from the hole in his abdomen, Ahsoka ducked beneath the shaft of his weapon, pressed her back against his chest, twirled to the side and drove the blade of her shoto straight through his faceplate, unleashing another dark billowing cloud.
A loud inhuman screech reverberated through Ahsoka's ears as clouds of shadow swirled around her. She shoved the warrior away from her just as he collapsed to the ground, his armor caving in as his entire form seemed to implode. Then the crumpled up plates separated as a dark mist poured out from the empty form like smoke and rose to the ceiling before dispersing. Strangely enough, Ahsoka saw no body.
Before she had time to ponder the meaning of this however, she was hurled to the ground by the force of an explosion as the walls and ceiling around her erupted into great pillars of flame, and she could do nothing but scream as an inferno swirled around her, devouring everything in its path but never coming within three meters of her. After a few seconds when the flames died down Ahsoka lifted her head to see that every interior wall and ceiling within Ziro's palace had been reduced to ash and soot, hundreds of cubic meters of stone, metal, and luxurious materials erased from existence in the span of a mere few seconds, leaving behind a large cavernous chamber. In the distance, Ahsoka saw the flicker of two red blades as Asajj Ventress was forced into a slow retreat by a droid that looked similar to the one she herself had fought, but with a few notable differences. Its moves were faster and far more calculated, two short blades extended from its wrists, and rather than three optical sensors, the droid's faceplate seemed to be one glowing red crystalline structure.
Ahsoka leapt up to her feet and started to race towards them when she stopped dead in her tracks, sensing the presence of an extremely powerful Force wielder behind her. She whirled around to see a tall man with pale skin, glowing yellow eyes, and blond hair. He wore a black formfitting combat suit with red trimmings and a large black cloak, and in his right hand he held the deactivated hilt of a double bladed lightsaber, its exterior interwoven patterns of gold and silver. Bright orange flames flickered and danced between and within the splayed fingers of his left hand.
A Sith Lord!
"I'm impressed you managed to survive combat with a shadow guard," the man said, twirling the hilt of his weapon around in his hands. "Few of the Jedi Order's finest masters could say the same." Suddenly he brought the hilt of his lightsaber to a stop, clasped between both of his hands, and two exceedingly thick fiery blades shot out from either side of the hilt, looking as if they were made of magma and flame. "But do not expect to survive me."
_________________
Ahsoka responded with an elaborate double backflip, ending with her in a fighting crouch with both of her blades in an opening stance. She thought back to the Clone Wars, to her training under Anakin, the mentorship of Obi-Wan and Plo Koon, her duels with the cyborg General Grievous and Asajj Ventress, and she felt her resolve surge with strength. "I have trained under and fought against living legends!" Ahsoka yelled. "It'll take more than your words to frighten me off!"
The Sith before Ahsoka laughed with what appeared to be genuine amusement. "You don't understand," the Sith began while slowly twirling his blades before him circularly. "I am Darth Ignus, a High Lord of the Sith." The blades began to pick up speed as the Sith started to twirl his blades in more elaborate patterns. "I am a living legend." The blades themselves had now become a mind numbing blur of motion as flames traced their paths. "Who are you?"
Ahsoka stood in defiant silence as Ignus's blades whirled around in sequences more elaborate and complex than any she had ever seen from friend or foe. It seemed to be a perfect amalgamation of Juyo and Ataru, the sequences holding elements of elegance and grace while also holding a seemingly disconnected wild unpredictability.
"It doesn't matter does it?" Darth Ignus asked as he gave his weapon one last twirl and brought it down to his side. "As you stand before death, even the name given to you becomes meaningless, the only thing that exists is your need to survive..." He began to approach her, his blade still down at his side.
Ahsoka tried not to consider the very real possibility that she was about to die, and instead fell into a state of focus and clarity as she had been trained to do from her earliest combat lessons at the Jedi temple, her mind opened to the subtle nudges of the Force, an instinct that drove and triggered her every move. When he closed within a meter and a half of her, one blade was still behind his back, and the other still at his side angled towards the ground. The Sith in his arrogance had left himself wide open, or so it seemed.
Ahsoka charged forwards, slashing wildly and rapidly at her opponent with her lightsaber, all the while constantly guarding her left flank with her shoto to protect herself from the warrior's fiery blades. Her first sequence was a series of rapid stabs at his chest and head, but Ignus seemed to effortlessly dart his head from side to side and pivot his shoulders as minimally as possible to dodge her every strike, but he made no move to block or retaliate with his own blades. Frustrated, Ahsoka shifted into wild sequences of horizontal cuts and slashes at Ignus's abdomen, twirling around and alternating which blade she was striking and guarding with, but Ignus slid back across the floor as needed, shifting and contorting his body to again dodge her wild flurry. Ahsoka then feigned high then dropped to a crouch, slashing her blades at Ignus's legs from either side, only to meet thin air as he gracefully leaped over her, flipping and landing back on his feet, his weapon still held to his side.
Ahsoka whirled around to strike at the same time he did, slashing upwards with both blades angled down to repel any strike at her lower body. It was then that Ignus lashed out, one of his fiery blades crackling as it struck the yellow-green blade of Ahsoka's shoto, then drove it aside with impossible force as it pressed into the other blade, snaking up around both as it whipped back in the direction it came from and opened up Ahsoka's entire right flank to attack. Ignus lunged forward, driving his knee into the bottom of Ahsoka's ribcage, and Ahsoka was hurtled several meters back, barely managing to right herself and roll back onto her feet.
Just as she brought her blades back into a defensive guard Ignus had already covered the distance between them, and with a lightning quick and elaborate twirl of his weapon drove both of her weapons to the side opposite of that from which they came, forcing her arms to awkwardly cross in front of her chest with her blades pointed to the side. Before she could bring her arms back to their natural positions, Ignus threw his body forward and drove his shoulder right where her arms were crossed, sending her hurtling back much less gracefully than before, and she landed hard on the duracrete seven meters away.
"You can't hope to defeat me if you keep fighting like that!" Darth Ignus taunted.
He's right,
Ahsoka realized.
I'm completely outmatched here.
With a new goal in mind, Ahsoka whirled around and charged towards the now gaping exit to the now cavernous structure, sprinting towards the light of day pouring down from above. She was just within twenty meters of the outside world when a massive wall of fire shot several meters past her left and curved around, engulfing her entire vision in bright orange as the inferno wrapped itself in a circle around her. Hot gusts of air whipped and pulled at her clothing and montrals, the crackling of flames echoed through her ears, and her body was tensed up as she skidded to a halt trying not to breathe in smoke.
After a few seconds, the inferno died down, and Ahsoka whirled around to face Ignus, who once again had small flames flickering and dancing between the fingers of his outstretched left hand. "The only chance you have at survival is to destroy me! I'll even make it easy for you!" Ignus cried out as he deactivated his saberstaff and tossed it several meters to the side. "Now fight nameless Togrutan!"
Ahsoka charged forwards, realizing she had no chance at escape and understanding that as low as her odds were at survival, she had the best chance at landing a lethal blow to Ignus while he was unarmed. She leapt high into the air and brought her blades down as fast and hard as she could, shattering the duracrete beneath her as Ignus darted to the side. She whirled around charging at him. Before she had kept one blade at her side, fighting somewhat reserved in case he struck at her with his own blade, but this time she fought without reserve, lashing out with everything she had. She whirled and flipped, levying elaborate sequence after elaborate sequence as she slashed desperately at her opponent, who was flipping and whirling backwards evasively as she continued her charge. After the fourth flip however, Ignus dropped into a crouch.
Ahsoka charged forwards and sliced her blades at his chest, but Ignus dropped low in a blur of motion and lashed out with his right arm, clamping his hand around Ahsoka's left wrist and forcing her shoto blade to deflect her lightsaber blade away from her body just as he clamped his left hand around her right leg. He pulled it into the air just as he pressed her left arm into her body and drove her into the ground so hard her fingers relinquished their grip on her lightsabers and the metal hilts tumbled uselessly to the side. Suddenly, Ignus jumped up and backflipped through the air just as a droid hurtled through the air beneath him and landed several meters away, bouncing across the ground until it tumbled to a stop. Ahsoka gazed back into the depths of the hollowed out pallace to see Asajj Ventress with her arms outstretched, a curved hilt red lightsaber in each hand and a helmet over her head. "You looked like you could use a hand!"
Darth Ignus nonchalantly turned to face his new assailant, staring through her with a knowing gaze. "Interesting," the Sith said. "You wield the Force with techniques much like the Jedi and Sith… yet your physiology is that of a Dathomirian."
"And you are a Sith, you spread war, enslave the Galaxy and use whatever discriminatory policies you can to keep those under you at each other's throats! I know how you operate," she snarled contemptuously.
"Discrimination and slavery? Don't make me laugh! You're people enslave the males of your species because you believe them to be an inferior people." Ignus sneered, then his gazed drifted off for half a second, after which his eyes widened with greater assuredness. "I may not know who you are, but your deeds are woven into your very soul. You yourself are no stranger to war, and I can sense countless lives ended by your hands… Ah yes, including innocents! Stop pretending to have a moral compass, because I could sense the Sith techniques you were using against EXCAL from a mile away! You've clearly walked the Sith path, regardless of whether it was as a master, a lord, or a mere acolyte."
"I left that life behind me long ago," Ventress responded somberly.
"Your thoughts betray you," Ignus replied. "They dwell upon your past, and while I can't read your every thought like my emperor, I can tell you didn't leave that path from moral disgust or even by choice. The only difference between you and me is that I am strong enough to walk the path that you were too weak to."
As the Sith was preoccupied with Ventress, Ahsoka seized hold of Ignus's lightsaber with the Force and hurled it behind her with all of her might, out of the cavernous palace and into the depths of Coruscant's underlevels. Simultaneously, Ahsoka leapt to her feet and called her weapons back to her hands, sighing in relief as her blades hummed to life. "Now!"
Together, the former Jedi and the former dark disciple charged forwards, assailing their common foe from either side with aggressive sequences, Ahsoka attacking with a wild energy and Ventress with a quick precision. Darth Ignus threw himself into the air, transforming into a streak of motion as he whipped and whirled, flipping and twirling along various imaginary axes as he simultaneously contorted various parts of his body, evading the attacks of his enemies as he soared overhead. He twirled through the air above Ahsoka's head and before she could whirl around he drove the flat of his foot into her back, sending her sprawling forwards towards Ventress.
Ventress saw what was happening and leaped over Ahsoka, slashing her blades from either side, one at Ignus's neck and the other at his waist. Ignus threw his entire body into a stationary cartwheel in the air, evading both of Ventress's blades as they harmlessly swept past him. He landed on his feet, and threw his head back, dodging another slash at the neck as he threw his right leg up in a kick. Ventress brought her blades low and crossed them to intercept his leg at the knee, but Ignus merely fell into a backwards somersault, dropping lower and hooking his leg beneath the fork in the Dathomirian's blades. The toe of his boot caught Ventress in the wrists, sending her weapons flying through the air behind him as he rolled across the ground back on his feet swiftly enough to lash out and catch one of Ventress's forearms in each hand. Ignus laughed, lifting his arms and enemy into the air before whirling around and releasing them, sending her flying back then tumbling across the floor until Ahsoka brought her to a stop with an outstretched arm, while simultaneously calling Ventress's curved hilts back towards them with her other.
"You're a resourceful one," Ignus said to Ahsoka while Ventress leapt back to her feet and reignited her weapons.
"You'll find I'm full of surprises!" Ahsoka retorted as she and Ventress stepped forward at slightly divergent angles, seeking to flank their enemy.
Ignus laughed and darted forwards, throwing himself towards them until their positions could've been the corners of an equilateral triangle. This time rather than leaping and twirling, Ignus dropped into a crouch, evading the duo's strikes with tight efficient movements and surprisingly nimble body contortions while simultaneously lashing out, keeping them at a tolerable enough distance with lightning quick strikes from his fists and legs, pressing one back as he evaded the strikes from the other. It was almost like a dance, graceful in its way, but also deadly, full of lethal strikes and mind-numbing speed.
It was often difficult to make out individual moves amidst the flurry of motion that was Darth Ignus, but from what Ahsoka had seen, she had managed to pinpoint not only unarmed disciplines from Ataru, but also mandalorian combat techniques, Matukai techniques, Tae Jitsu, Teräs Käsi, and martial arts too exotic and forgotten for Ahsoka to put a name to. Ahsoka had often used unarmed combat to get out of tight spaces, but she reckoned if she had been as skilled in unarmed combat as this man was, she would have never needed a lightsaber throughout the course of the Clone Wars.
Ahsoka and Ventress brought themselves closer together and began to supplement each other's styles. When one went high the other went low, red and green streaks of motion lashing out towards Ignus as the precision of Ahsoka's shoto paired with the precision of Ventress's fighting style. Together they drove Ignus a couple of steps back until he dodged a whirlwind attack from Ahsoka and drove a fist under Ventress's guard towards her abdomen, forcing Ventress to leap back a meter to evade the attack. Ignus pressed the advantage, whirling through the air as he lashed out with a couple well placed kicks, forcing his enemies to give a little more ground. Ignus landed on his feet, pivoting back and forth and lashing out with his hands and feet, evading some strikes and driving others off mark with slight physical contact to his opponents' arms.
After a few seconds, Ignus pressed forward on Ventress, ducking a slash from behind while darting to the side of another meanwhile striking Ventress's left forearm with a knifehand chop, sending one of her lightsabers skittering across the ground. Ignus fell back just in time to evade the return cut from Ventress's other blade before he ducked yet another strike from Ahsoka and drove his foot under her guard into her chest, knocking her to the floor. As Ventress lashed out at him again, Ignus struck Ventress's right forearm with the back of his hand, then drove his palm into her chest, hurling her to the ground.
Just then, Ahsoka returned to her feet quicker than Ignus expected her to, causing him to take a couple of steps back with surprise before he regained his composure, effortlessly evaded two of her strikes and swept her legs out from under her with his left leg. By that point, Ventress was already charging at him from behind, but Ignus was too fast. He knifehand chopped at Ventress's head with his right hand, forcing her to throw her head and the momentum of her body to her left. He then ducked under her right arm, whirled around, clasped his open palm against the center of her back and hurled her forwards, sending her crashing into the ground next to Ahsoka hard enough to crack the duracrete.
Ahsoka telepathically nudged Ventress as they both rose to their feet. Simultaneously, the former Jedi and the former dark disciple rose to their feet and extended their arms, mustering as much power as they possibly could for a wave of devastating Force energy. Their attack met the impassible wall of Ignus's Force barrier, eliciting a smirk from the Sith prior to him casually flicking his own wrist towards them. Both of their bodies were hoisted into the air and hurled back so fast Ahsoka's entire vision was a blur as the world streaked around her. They both tumbled to the ground violently, jarring Ahsoka's entire body and making her vision go black for the briefest of seconds. As they returned to their feet once more, Ignus stayed at his current distance.
"I have to admit, I'm quite impressed with your chosen fighting styles," Ignus remarked. "Makashi and Jar'kai… an effective way of combining precision with versatility, maximizing the ability to strike from two places at once with the certainty of exact placement and fluid movement. And as for you Togrutan, your fighting style is extremely dynamic, using reverse grips to maximize the angles of your offensive and defensive coverage, as well as gearing the offensives of multiple fighting styles to the whims of your strategy and impulse. Even though your defensive moveset is somewhat lacking you manage to use your offense to keep your opponents at a comfortable distance, a rather ingenious strategy."
Strategy
, Ahsoka thought to herself.
Think!
It came to her. Without a moment's hesitation, Ahsoka started furiously slicing and slashing through the duracrete in front of her feet. She then nudged Ventress through the Force and together they drove a telekinetic blast into the ground, shattering the duracrete into tens of thousands of splintered fragments. "Throw them!" Ahsoka screamed as she and Ventress extended their arms before them, hurling the fragments of duracrete towards their foe with the velocity of slugs from a slugthrower.
Ignus flew into motion, becoming a near invisible blur as he leapt and wove his body through the air, dashing forwards as he nimbly evaded and worked his way between the hundreds of projectiles being hurled his way at any given second. His progress slowed down the closer he got to them, but he continued to advance nonetheless as his foes continued to slice and blast the ground before them. At last, Ignus stopped dodging a few feet in front of them, evidently satisfied that he had proven himself too fast to be struck. His skin began to glow a bright orange an instant before a cocoon of flame enveloped him, eating away all of the durasteel several inches away from the form of his body.
They then paused and regarded each other one last time before flying into motion once more. By the look on Ignus's face, Ahsoka figured he was taking their fight a little more seriously than he had been before. He charged forwards, driving them both back with a series of kicks and punches, his limbs nearly invisible and his abdomen a constant blur as he dodged retaliatory attack after retaliatory attack. At one point, he caught Ventress's wrist in his grip, pulling her forwards as he raced past her, focusing his attention on Ahsoka. He evaded each of her slashes, and pressed forwards with a series of punches, making light contact with Ahsoka on half a dozen different occasions within the span of four seconds. Now she realized the truth, he had been playing with them the entire time, and he was fully capable of landing a solid blow on either of them whenever he wished, leading Ahsoka to wonder if she'd even survive the force of a strike from him if he were going all out.
Ventress charged behind Ignus and swept one blade at his legs and the other at his neck, but Ignus threw his head back and his legs forward, his body parallel to the ground beneath him as he twisted along an imaginary axis. With his arms outstretched behind him, he redirected a few of Ventress's strikes with contact to her arms all the while maintaining the form and balance of his maneuver. He lashed out with his legs, catching one of Ahsoka's arms with each one and twisting them with the momentum of his whirling body, forcing her blades out of her hand. Before she could properly respond, Ignus dropped to a crouch, extended his right leg, and swept Ahsoka's feet out from under her, whirling to face Ventress.
Moving with the momentum of his spin, Ignus brought his right leg back under him and lashed out with his left, kicking Ventress hard enough in the left forearm to shatter the bone and fling her weapon to the side. Then in a lightning quick motion, Ignus contemptuously slapped Ventress in the wrist with his right hand, sending that weapon skittering away as well. Before Ventress could move out of the way, Ignus snapped his head forwards, striking her in the head with his forehead. There was a resounding crack as her helmet shattered beneath the Force of his strike and her body was sent pinwheeling backwards.
Ahsoka watched in horror as Ventress collapsed to the ground, blood leaking from her mouth, nose and ears. She tried to leap back up to her feet, but she found herself pressed to the ground by an invisible hand. She struggled against it desperately, but it was no good. Finally, she could feel the terrifying heat and power of Ignus's presence pressing against her, and she realized she was facing a man far more powerful than any she had encountered, with the exceptions of only Yoda and the deceased Ones of Mortis.
"You are powerful," Ignus began to monologue as he turned to face his pinned opponent. "Resourceful, intuitive, and physically disciplined. You are an extremely deadly warrior and harness great power… yet there is a certain wildness to you, a lack of refinement, an incompleteness in your training… which tells me you could rise a lot higher than you have even at this point in your life. I can train you to wield that power, to evolve."
"Never!" Ahsoka shouted. "I will never join the Dark Side willingly! All who follow it end up ruined, whether they end up bisected, decapitated, and burned alive! Those who follow the Dark Side are capable of only destruction, and they always destroy themselves."
"So you think I can't create?" Ignus asked as he rolled up his sleeves and outstretched his right hand, palm facing up, fingers clawed. His bare flesh began to glow a fiery orange. "Let me show you the power of the dark side..." Several latices of purple lightning twisted and snaked around Ignus's arm, coiling around his fingers, and jumping in and out of his chest, focusing around a loci of power centimeters above the center of his palm. Just then flames leaped from the surface of his flesh, blossoming into a small inferno around his hand. Lightning crackled between, around, and within the flames as the area was bathed in purple and orange light.
"Is that it?" Ahsoka asked.
"It's only the beginning," Ignus replied. Suddenly there was a loud crack as the storm of fire and lightning contracted, folding in upon itself towards the center of Ignus's palm. Finally, a small vortex of blinding crackling fire and lightning hovered over Ignus's hand for the briefest of moments before swirling down to a single point. All that remained was a single spark of searing red light four centimeters above Ignus's palm.
After staring at the pinprick of light for a few seconds, Ahsoka turned her gaze upon Ignus himself. His brow was knitted with intense focus and effort, veins bulging out all across his arm, and even a few on his cheeks. His eyes glowed a fierce yellow, his gaze fixed solely on that singular spark.
Suddenly, another web of crackling violet lightning shot out from the tips of Ignus's fingers, its latices writhing around the spark until they had shaped themselves into a cube around it, one made up of twenty seven smaller cubes, the center one containing the spark. A plume of flame shot out from the palm of Ignus's hand, only to fill each of the other twenty six cubes with orange fire until the spark was barely visible. Suddenly, softly glowing red Sith runes flared to life, each inscribed on one of the fifty four exposed faces of the smaller cubes.
Suddenly, Ignus raised his other arm, flicking and twirling his left hand as three by three sections of the cube started to rotate one at a time about the center of the axis, rearranging the cubes and symbols inscribed on their faces. To Ahsoka, the Sith runes were complete gibberish, but she could tell that to Ignus there was a very specific pattern to them, a specific arrangement that needed to be reached, and he was determined to do so. After about half a minute, a section of the cube rotated one last time, each of the runes suddenly projected a beam of searing red light, then in a fraction of a second the entire cube imploded, collapsing upon and into that singular red spark in the middle. Just then the spark expanded in all directions, forming a glowing crimson sphere. Ahsoka could barely make out figments of mottled yellow light beneath the surface of the sphere.
Suddenly, flame and lightning once more emerged from Ignus's hand, reforming the same sized cube but with slightly different runes, the crimson sphere perfectly inscribed beneath its surface. Ignus once more went to work, and in half a minute, there was another burst of crimson light before this cube also imploded, and the sphere expanded further. Now the surface of the sphere was a blindingly bright yellow, its surface mottled with some points brighter and darker than others, traced by an almost golden glow, spikes and flares of energy shooting off of its surface, meanwhile several searing crimson rays shot out at various points from its center. To Ahsoka, it almost looked like-
"Is that a small sun?!" Ahsoka cried out in disbelief.
"It will be in less than a minute," Ignus replied, more lightning and fire flaring up from the palm of his hand, his veins now bulging more than ever. This time it was the cube that was inscribed within the sphere, and Ignus pressed his fingertips through the outer edges of the sphere to rotate the sections of the cube through physical contact. Ahsoka desperately tried to free herself from Ignus's grasp but it was no use. Ahsoka watched as the corners of Ignus's lips curled upwards in triumph as he was about to make the last rotation.
It was then that Ahsoka heard a loud scream. "NYEEAAAAAAAA!!!!!" Then she saw a very different burst of crimson light. She watched as a shaft of red light chewed a tunnel through the center of Ignus's chest and shot out almost the full meter out of his front. Just behind him, Ahsoka saw a very familiar pale face.
"Ventress!" Ahsoka shouted triumphantly.
Darth Ignus howled in pain and fury, then whipped his left arm around in a streak of motion too fast for Ahsoka to properly perceive. However she did see Ignus's elbow strike Ventress's neck, heard a resounding snap, and screamed as Ventress's limp body toppled to the ground, her deactivated lightsaber falling away from Ignus's back.
Ignus fell to his knees, both arms outstretched towards the trembling ball of raw energy and indescribable heat before him. Large bursts of energy shot out at random points along its surface, billowing into clouds of plasma and flame, only barely held back by Ignus's efforts. His hands seized up in violent tremors as the sphere continued to grow more and more unstable. The process of conjuring it had required as much power and focus as he could muster, the only reason Ventress had been able to sneak up behind him to begin with. Now severely drained from the process of conjuring it and injured by a lightsaber wound through the heart, Ignus simply didn't have nearly enough energy to contain the power of what he had almost created.
Freed from the Sith Lord's grasp as he struggled desperately in vain effort to try and stabilize the sphere of raw energy, Ahsoka leapt to her feet, called her lightsabers to her hands and charged. Ignus flicked one hand towards her and sent her hurtling back through through the air at a great velocity, sending her straight out of the cavernous mouth of what remained of Ziro the Hutt's palace. The last thing Ahsoka saw before she started to plummet into the lower levels of Coruscant was clouds of plasma violently bursting forth from the sphere which was now shaking more violently than ever, searing red cracks forming on its surface and within it.
Ahsoka fell about a hundred meters before the most sudden and violent explosion she had ever seen engulfed what remained of Ziro's palace and the area around it at least half a dozen times as big. Her vision was completely clouded in orange and her ears ringing. A wall of heat struck Ahsoka's back, and her entire body was sent twisting and whirling uncontrollably through the air. After a few seconds that felt like several minutes, Ahsoka managed to reorient her body. Still temporarily blinded by the blast, Ahsoka was forced to rely on her Force senses and montrals to get an impression of her surroundings. On instinct, she used the Force to slow her descent by quite a bit before she landed feet first a top a freighter, not unlike the one she had landed on to escape the pursuit of the clones when she had been framed by someone she had believed to  be her friend. The only people and droids who had encountered her after the carbonite were now almost certainly dead, so Ahsoka decided to fade back into the underworld.
------------------
Within a massive crater filled with charred rock, ash, and rubble, Ignus staggered wearily to his feet, the clothing on his upper body completely burned off, revealing a hole burned through his chest. Violent shudders and spasms seized his entire body as he barely maintained his foothold amidst the rubble.
"Ignuuuussssssss!" the High Lord heard from behind him. He whirled around to see a droid, it's plating heavily charred and burned through at several points, clawing its way out of a pile of rubble. "Wuzzup."
"EXCAL, you survived," Ignus remarked. "I see the synthetic laminanium Zillo beast plate alloy was worth the cost."
"Awwww thanks Ignus. Yeah, I'm glad they didn't build me out of duraplast before you tried to blow me up," EXCAL joked. "You look pretty karked up to be honest. "
"That bald whore stabbed me from behind while I was in the middle of making a blasted sun in the palm of my hand, so yeah I should think so," Ignus replied. "I'm just glad I was able to put her down with an elbow to the neck. My only regret was that the explosion incinerated her body. I could've had a lot of fun defiling her corpse with fire and urine."
"That seems a little excessive," EXCAL replied.
"I tend to get that way when someone drives their blade through my heart," Ignus responded. "Did you ID her?"
"Yeah, as soon as I started dueling her," EXCAL began. "Asajj Ventress, a Dark Jedi turned Nightsister turned bounty hunter from the Clone Wars, no recorded death. Evidently she was frozen in carbonite for the past two thousand years. I think I'm gonna research her very extensively when I get the chance. From what I could see from both of our fights with her I really like her fighting style. I think I'll incorporate it into my own."
"If you were watching my duel with her why didn't you stop her from stabbing me in the back?!" Ignus demanded. "Creating a miniature sun in the palm of my hand requires pretty much all of my focus, so the only reason I even attempted it was because I thought you had my karking back!"
"I'm sorry Ignuuuuusssss," EXCAL replied. "But as soon as you started your experiment I was busy contacting certain resources in case things got out of hand. This isn't exactly the first time you've lost control."
"That wasn't your call to make," Ignus replied angrily. "I outrank you general."
"I serve the Sith," EXCAL conceded. "But  I also serve the Empire, and above all I serve Umbravon. He made it abundantly clear that the citizens of the Empire need to understand that he has their best interests in mind, and a city block randomly being vaporized by a karking miniature sun doesn't really convey that. Anyways, we're lucky I contacted the appropriate people beforehand because that explosion completely shorted my communications array, my connection to the holonet… OH YEAH! And my self regulating armor regeneration array! Thaaaannnkkkkkkksssss!"
"Who's on their way?" Ignus asked.
"Based on his last known route, Seify's already on the scene pacifying the public until Sangara can get here and alter their memories," EXCAL began. "Ethiop is en route to remove all evidence of what transpired here, and Barre is on his way here to repair me since I apparently can't do that myself in my current condition-"
"What of the Jedi?" Ignus interrupted. "Who is she?"
"Former Jedi," EXCAL corrected. "Her name is Ahsoka Tano, she was a Jedi padawan in the clone wars until she got framed for... an explosion, how appropriate! Anyways the Jedi Council decided to be a bunch of hos and expel her from the order, so when the true culprit was caught and the Jedi offered to allow her to return she refused. I must say, I'm more interested in male anatomy, but there's something… enthralling about her, and her fighting style intrigues me even more than Ventress's. This incident and past records indicate that she's extremely resourceful."
"Well then," Ignus said, extending his hand. "There's no time to waste is there." The hilt of his lightsaber suddenly shot up from the depths of the underlevels of Coruscant and straight into his hand.
"You're in no condition for this right now," EXCAL replied. "Not that you need medical attention. Blast! As long as you're still alive I doubt you'd ever need anyone's help to recover."
"So what do we do about her?" Ignus asked.
"Well you interrupted me before I mentioned the final asset I contacted…" Excal replied. "The Shrouded Hunter."
_________________
LMFAO "NYEEAAAAAAAA!!!!!" is probably my favorite part.
But yes, I did finally read it, DMB, after only nine months.

The fighting was extremely thorough and detailed which was awesome, and I think you nailed Ahsoka's fighting style. Good work.

The Crazy Droogie




Posts

: 250


Join date

: 2014-09-02


Age

: 19


Location

: Arkham Asylum




---
Permissions in this forum:
You
cannot
reply to topics in this forum